 May your Christmas be filled with Joy, Peace and God's blessings - HOP-NM
Esther and Larry Rios

Click on Christmas Carols, Gospel Songs or Cantos" to listen to free instrumental music played by Larry C. Rios.
This website provides an Internet "House of Prayer". You can submit or view "Online Prayer Requests" by clicking on the "Guestbook" icons on the left or email hopnm@yahoo.com.
The Lord's Prayer
Our Father who art in heaven, Hallowed be thy name. Thy kingdom come. Thy will be done, on earth, as it is in heaven. Give us this day our daily bread. And forgive us our debts, as we forgive our debtors. And lead us not into temptation, but deliver us from evil, For thine is the kingdom and the power, and the glory, forever, Amen.
Contact: Esther J. Rios (575)522-7483
Email: hopnm@yahoo.com, or
HOP NM, P.O. Box 1504
Las Cruces, NM 88004-1504

Our Music Ministry is now worldwide.
To God be the glory and the honor!
"And the angel said unto them, Fear not: for, behold, I bring you good tidings of great joy, which shall be to all people. For unto you is born this day in the city of David a Savior, which is Christ the Lord." Luke 2:10-11
"The universal joy of Christmas is certainly wonderful. We ring the bells when princes are born, or toll a mournful dirge when great men pass away. Nations have their red-letter days, their carnivals and festivals, but once in the year and only once, the whole world stands still to celebrate the advent of a life. Only Jesus of Nazareth claims this world-wide, undying remembrance. You cannot cut Christmas out of the Calendar, nor out of the heart of the world." - Anonymous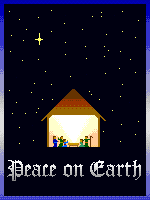 Visitors
Unique visitors in November: 1,030
Hits in November: 7,295
Total Hits in 2015: 105,848
Total Countries in 2015: 156
Our two websites have had a total of 7,230,017 hits.